Meringue Cookies
A classic recipe for meringue cookies! These little meringues only call for 5 ingredients, and at under 25 calories a pop they are easily the lightest recipe on my blog! The technique takes a little bit of practice, and a long time in the oven, but I'll walk you through the steps in the recipe so that you can make your own perfect meringues!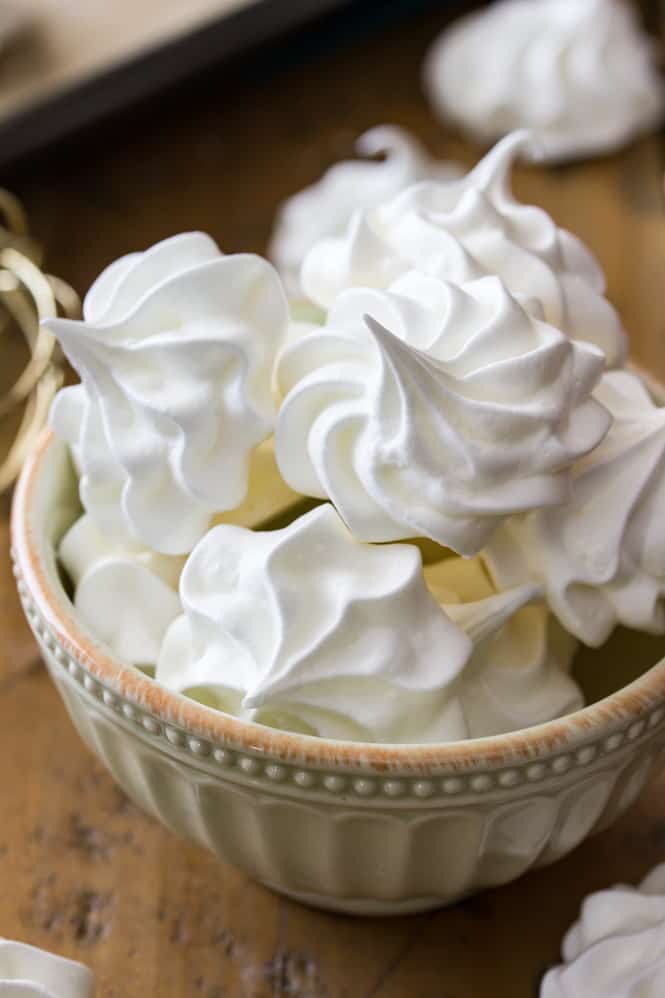 I have another recipe for your holiday cookie tray today — classic meringue cookies!
Meringues only require 5 ingredients to make, but they can be a little bit finicky — even the weather can affect them (winter is a great time to try them out, as you're much less likely to have a very humid day this time of year!).
I've been making this recipe over and over again the past few months to make sure that I understood all of the ins and outs of making perfect meringue cookies, and I'm finally ready to share what I've learned with you, so that you too can make these addictive little meringue cookies.
If you've never had one, meringues are light, airy cookies with crisp interiors. I'm sharing a classic vanilla meringue recipe today (with notes on how to add your own different flavors!), and the taste always reminds me of marshmallow 😍.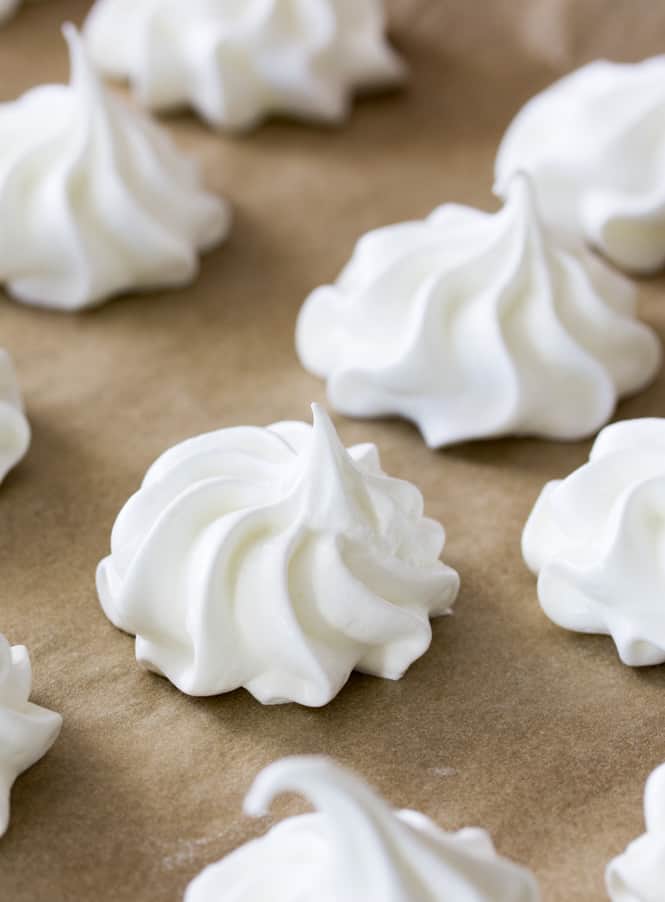 This recipe calls for four egg whites and a single cup of sugar. That may not seem like it's going to yield you very many meringues when you start, but you'll be surprised by how much these ingredients increase in volume.
As you add the sugar, the mixture will become thick, glossy, and sticky, that's exactly what you are looking for! You'll also want the mixture to achieve stiff peaks — that's how you'll know that it's done.
If you've made my angel food cake or whipped cream before, then you're already familiar with the concept of stiff peaks. It means that when you turn the batter over (like you can see in the image below with the meringue cookie batter), the peak that forms stands tall and does not fold back into itself.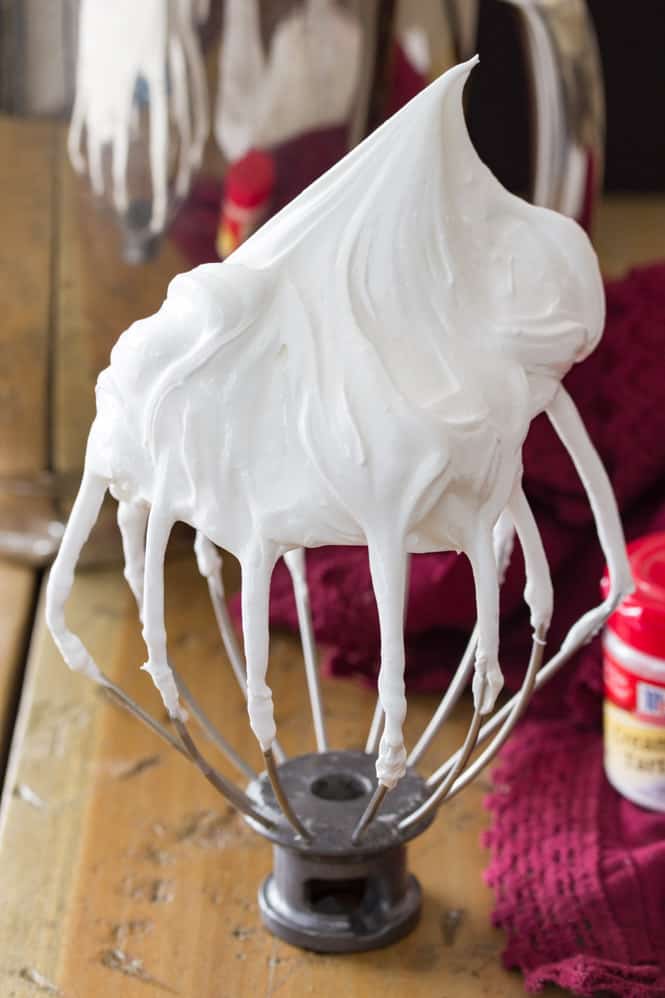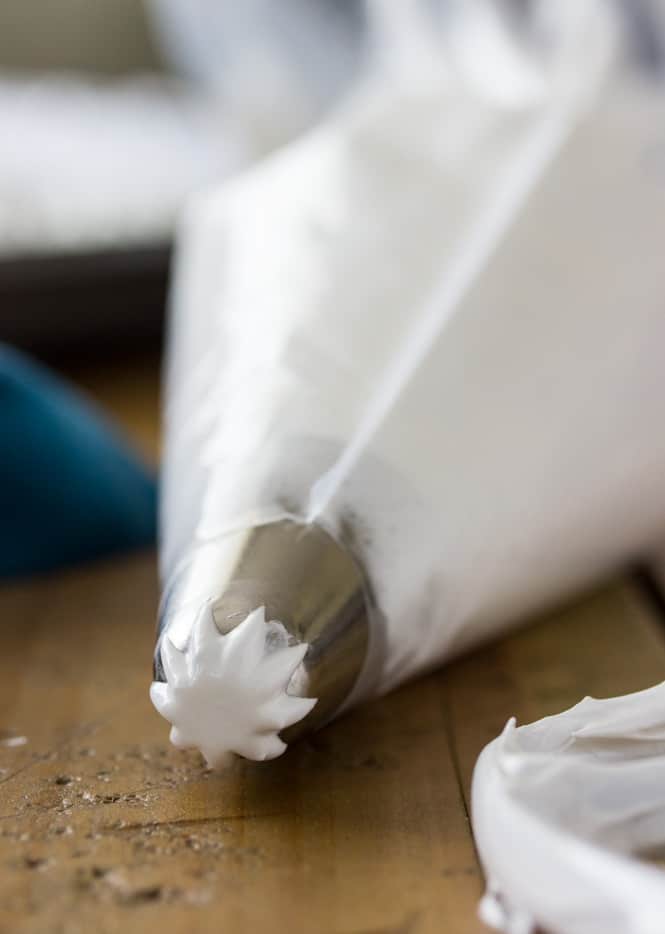 Tips for No-Fail Meringue Cookies
Make sure that the bowl and beater that you are using to beat your meringue is completely grease and moisture free. Any moisture can ruin your meringues.
Crack your eggs in a separate bowl when separating the whites. Even a tiny bit of yolk can also ruin your meringues, so crack each egg in a small bowl before adding it to the bowl that you will be mixing the meringue batter in.
Add the sugar gradually, one Tablespoon at a time, and give it a chance to dissolve before adding more.
You can test that the sugar is completely absorbed by taking a small bit of the batter and rubbing it between your fingers — if it's not, it'll feel gritty.
Don't stop until you get stiff peaks. The batter will take several minutes, at least, of beating to achieve stiff peaks, but keep going. It will increase in volume and be very thick and glossy — that's what you're looking for!
Don't over-beat your batter, either! Once you hit stiff peaks, stop! You can stir in your extract and any food coloring at this point, but don't push it because over-beating the batter is just as bad as not beating it enough.
If you've found that your meringues have gotten soft after you finished baking them, you can actually pop them back in the oven at 225F for another 10-20 minutes (watch them, if they begin to turn golden brown around the edges turn off the heat immediately) and then let them cool in the oven for another hour, this has always worked for me with meringues that start to get chewy.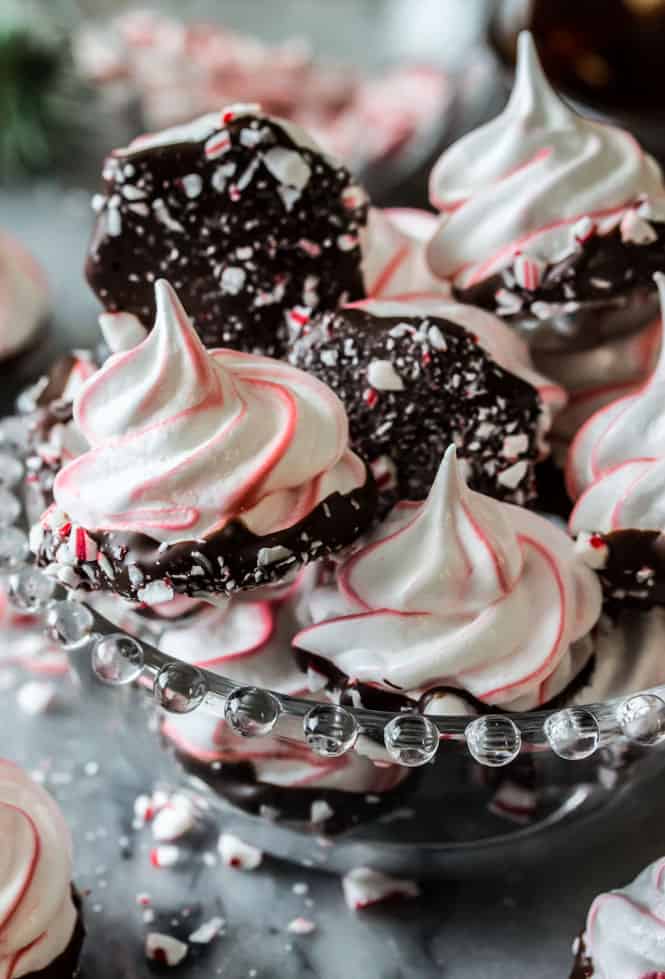 Once you get the hang of making meringues, feel free to play with lots of different flavors and colors — I made these Peppermint Bark Meringues by adding 1/4 teaspoon peppermint extract, striping the piping bag with red food coloring, and dipping the baked, cooled meringue cookies in dark chocolate and crushed peppermint pieces!
Enjoy!