Easy Sugar Cookie Recipe (With Frosting!)
These are my favorite sugar cookies! This recipe makes a simple, versatile vanilla sugar cookie; the dough is easy to roll and to work with and doesn't spread when baking, so your cookies will always have sharp, defined edges! You can decorate these cookies with sanding sugar, or you can use my recipe below for a simple (and tasty!) pipeable vanilla sugar cookie frosting.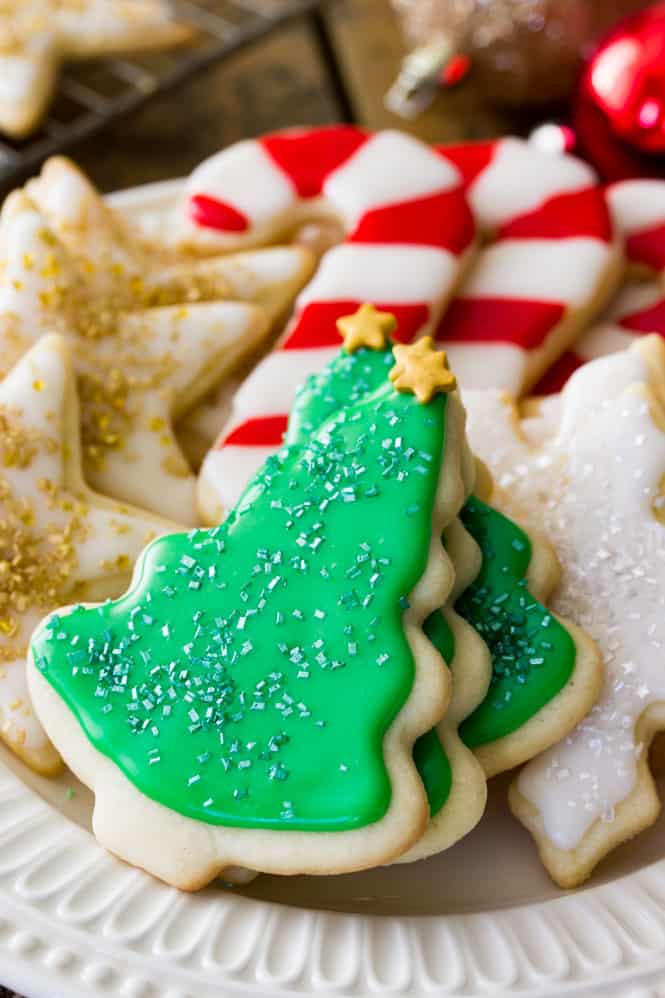 This is just a friendly reminder that Christmas is officially less than one month away, so if you aren't freaking out yet about not having all of your Christmas shopping done, or even started, now is the time to start freaking out.
Wait. Breathe. Have a (sugar) cookie.
I'm trying not to freak out, but I have 1 husband and 7 family members (plus two birthdays before Christmas) that I need to buy for just on my side. They're also aggressively hounding me to know what I want for Christmas, and my wish list currently has exactly two items: This gorgeously colored KitchenAid that I definitely don't need because I already have one in an equally gorgeous color (affiliate), and like 6 of those robot vacuum cleaners (affiliate) (because three dogs!)… Affordable options for my 12 year old sister, right? If you have any baking must-haves that I need on my list, send them my way!
While my gift buying situation is not at all under control, I at least have the Christmas cookie situation locked down with this easy sugar cookie recipe. I started working on this recipe a long, long time ago, but made myself wait until after Thanksgiving to finally share it.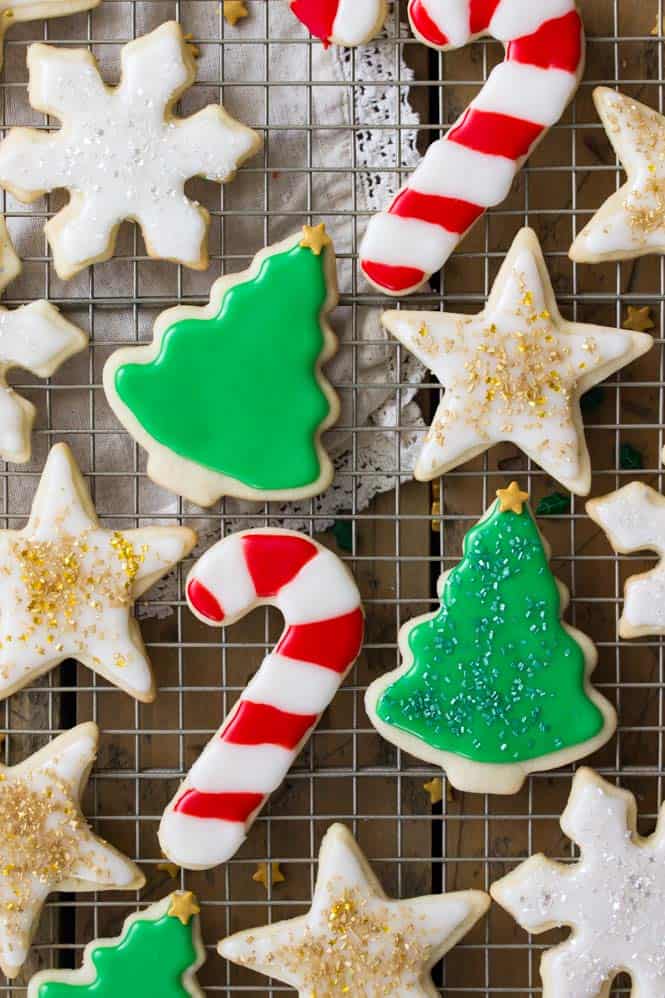 These are easy cut-out vanilla sugar cookies and are destined to be your future cookie platter staple. Sugar cookie dough always shocks me with its simplicity, it only calls for a few ingredients and no fancy techniques.
When you first make your dough, it will be a bit sticky and tough to manage so you are going to need to chill it before you can roll it out. I divide my dough into about two equal parts, wrap each in cling wrap and form it into a disk, then chill for 2-3 hours (though you can certainly chill it overnight, or even make it several days in advance).
I know, I know, chilling is a pain. I played with some no-chilling-required recipes, though, and this recipe that required chilling beat out all of my no-chill sugar cookie recipe versions, so trust me when I tell you that the wait is worth it! It also makes your dough very easy to manage when it comes time to roll it out, simple and frustration-free.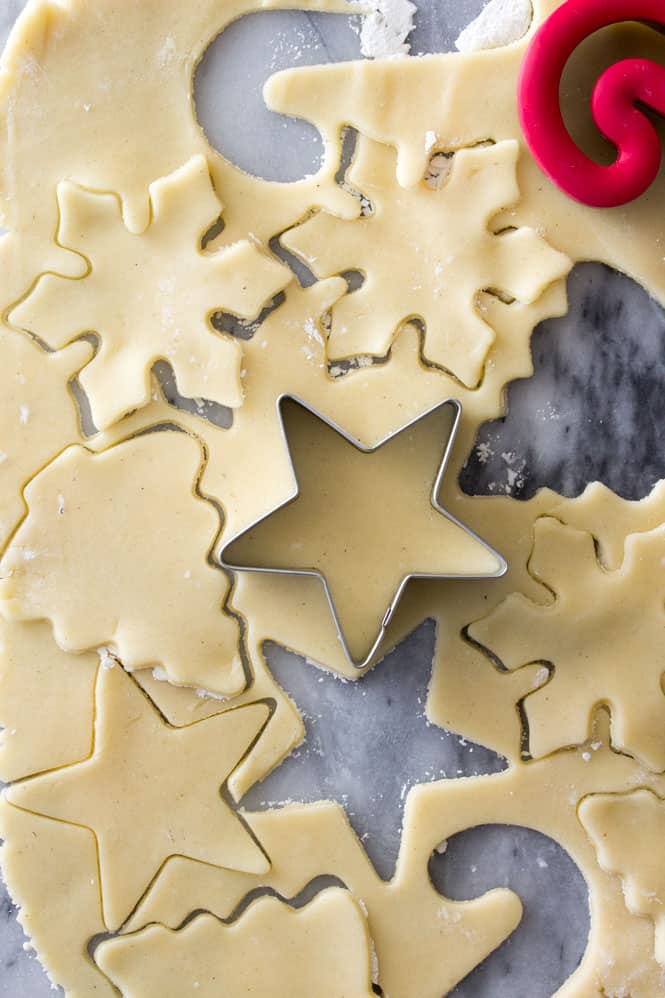 For the frosting for these cookies, I did not use a royal icing, which I know is popular. Truthfully, I don't really love the taste of royal frosting, and I know many of you don't keep meringue powder in your cabinets or feel comfortable making egg white frosting.
Instead, I used the same frosting that I used for my Galaxy Cookies, it's easy to make, easy to pipe, and dries hard for stackable cookies. This recipe uses light corn syrup (which is not the same as high fructose corn syrup!) for a nice shiny frosting.
I frosted my cookies and then topped a few of them off with colored sugars, but if you want to skip the frosting you can sprinkle your cut-outs with sanding sugar just before baking. This is the way my mom always makes her sugar cookies, they still taste delicious!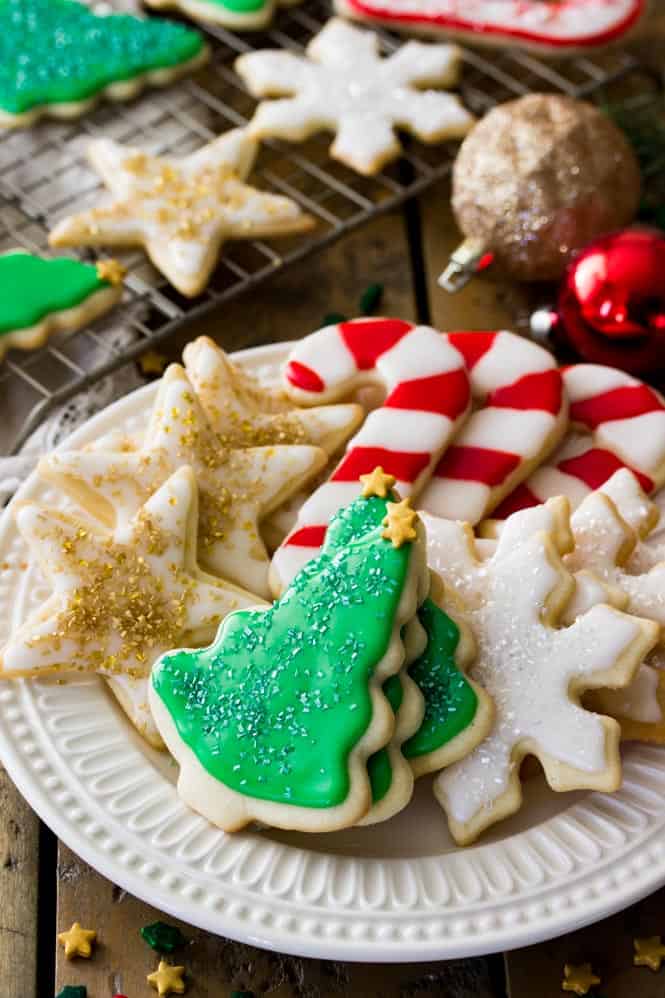 Tips for making perfect sugar cookies:
When cutting out your sugar cookies, make sure to keep your cuts as close together to get as many cookies out of your dough as possible. You will want to re-roll any scraps so that you use all of your dough, but with each re-roll you're adding more flour into the dough, so you want to get as much as possible out of that first roll.
Bake cookies that are about the same size together. Otherwise the small ones will burn and the large ones won't finish baking.
For thinner, crispier sugar cookies: Roll cookie dough thinner (about 1/8″) and look for the edges of the cookies to be turning golden brown to know that they are done.
For thicker, softer sugar cookies: Roll dough to about 1/4″, and watch for cookies to be just beginning to turn lightly golden around the edges. Let them cool completely on the cookie rack as they may break if you try to move them while they're still warm.
When making the frosting: It's hard to mess this one up, because if you make it too thin, just add more powdered sugar, and if it's still too thick, just add more milk!
Alright, that's how you make perfect, easy Sugar Cookies from scratch. Hopefully you guys love cookies as much as I do because I have so many more coming up this month that will be great for your holiday cookie platters (especially excited to share my gingerbread cookie recipe — coming soon!).
Enjoy!!
If you like my sugar cookies, make sure to try out my chocolate chip cookies!
This post contains affiliate links, which means that if you purchase anything through these links I will get a small commission at no extra cost to you. Please view the disclosure policy for more information.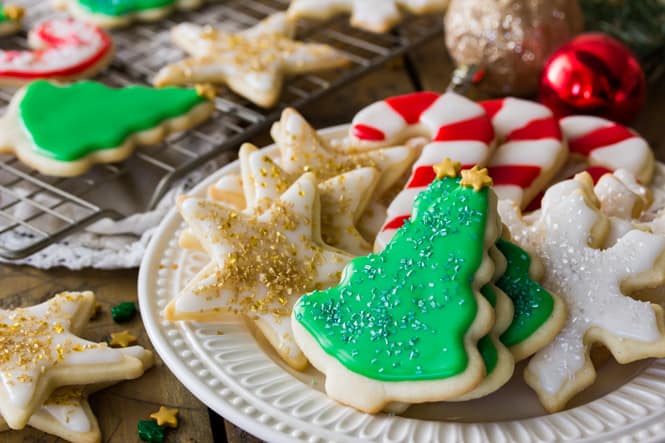 I filmed myself making these cookies LIVE on my Facebook page 11/30. Here is the re-play!
PIN IT: