Cookie Dough Dip
This is a quick and easy cookie dough dip recipe made without eggs and without cream cheese. This dip tastes just like real cookie dough, only it's made with whipping cream to be smoother for dipping.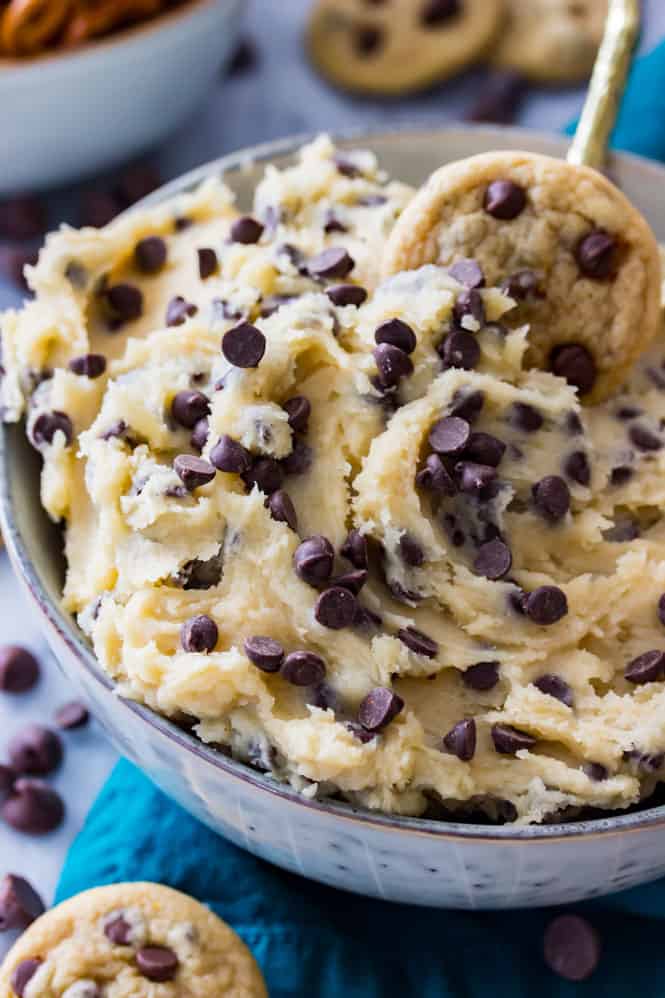 I originally shared this cookie dough dip recipe in 2015, but it's always popular around New Year's Eve, and so I wanted to re-share it today for those of you who may not have seen it before.
After a wonderful, but very, very busy holiday weekend full of lots of sugar cookies and other sweets, I'm not quite ready to turn the oven back on just yet. New Year's Eve is just around the corner, though, and my family always goes all out with more food options than you can wrap your head around. While my jalapeno popper dip will be making an appearance this year, I'm also going to be re-making this super easy, no oven-required cookie dough dip to share.
It's so simple to make and it tastes just like chocolate chip cookie dough, so amidst a New Year's Eve spread of savory dips and appetizers, we've got your sweet tooth covered.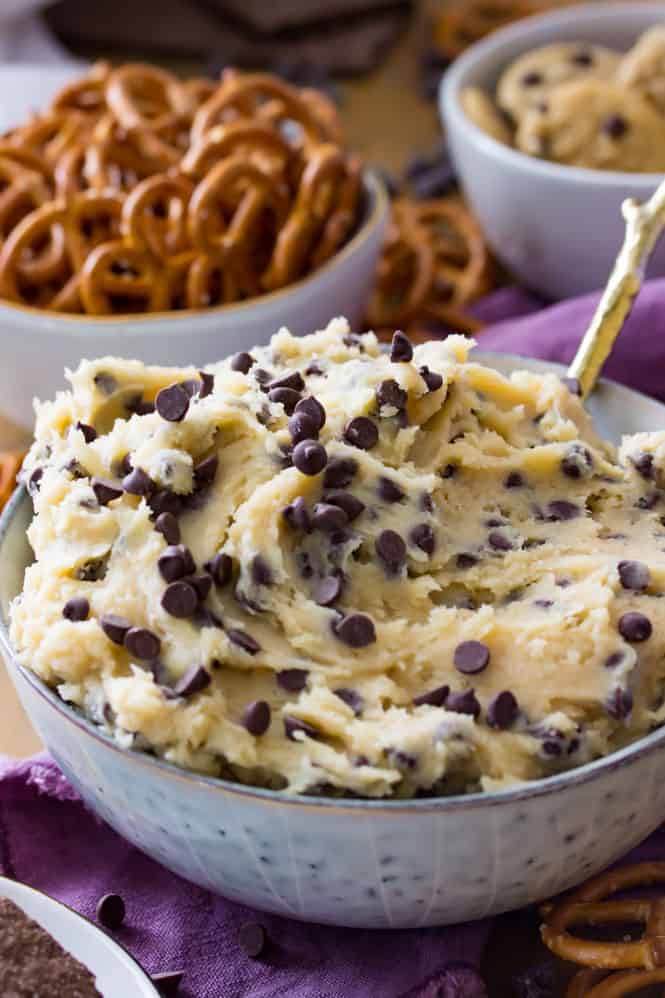 I've seen cookie dough dips before, and many popular versions are made with cream cheese. While I am personally a huge fan of cream cheese (hello, cheesecake) and the subtle tang it adds to a sweet dessert, I know that not everyone is quite so on board. In fact, the most popular e-mail that I get comes from people asking me if there is a substitute for the cream cheese that a recipe calls for because they simply don't like it.
So this one is for those of you who don't like cream cheese (I feel that it takes away from a true cookie dough flavor, anyway).
This genuine-tasting cookie dough dip made safe for eating* by omitting the eggs — creamy (thanks to an addition of heavy cream) but authentic in its taste and texture.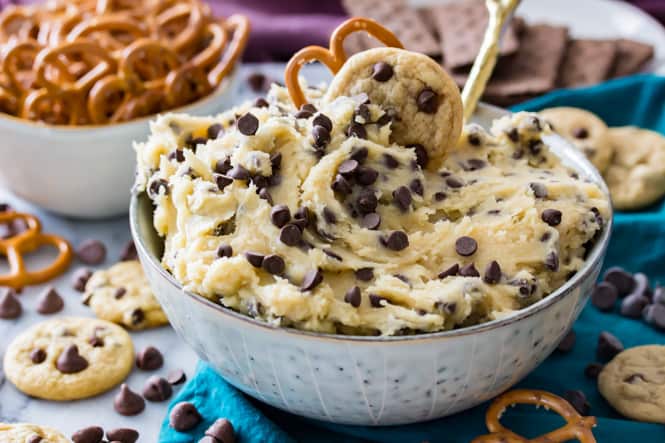 This dip tastes best served immediately after making it, as if you refrigerate it it will stiffen and be difficult to scoop onto pretzels or crackers (or onto a spoon directly into your mouth). If you do find that you need to refrigerate it, allow it to sit at room temperature for 15-20 minutes before serving. You may notice some separation of the oils from the butter but this is fine–just stir and you're good to go!
My preferred dipping utensils are pretzels and chocolate graham crackers (or just a spoon!). Someone also commented that they used broken up waffle cones and that sounds like a great option as well!
*Note– though this recipe is egg free, there have been some reports that E. coli may be linked to consuming raw flour. I don't let this stop me personally, but please consume at your own risk. If you prefer to cook your flour to eradicate any chance of E. coli, you can follow the instructions listed in my edible cookie dough post.
Enjoy!
Printable recipe for cookie dough dip is just below the video
This recipe was originally published 12/28/2015. Photos and text updated 12/27/2017.
Original Photo: